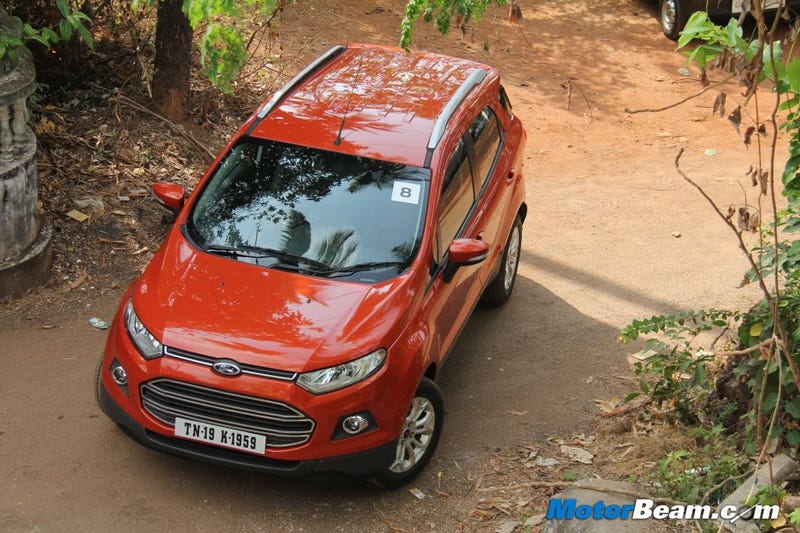 The Ford EcoSport is a compact SUV made for emerging markets like Brazil, China, India and Colombia. The vehicle is around 4-metres in length and is based on the Fiesta platform. Although it looks quite small, it does look good to most people in these markets, since the styling is aggressive with a large hexagonal grille at the front, roof rails at the side, tail gate mounted spare wheel at the rear and black body cladding running throughout the lower side of the vehicle. A neat touch is the boot lid opener placed on the right rear tail light.
The Ford EcoSport is in its second generation now and the first gen model was launched in Brazil way back in 2003. The vehicle is produced in Brazil, China and India with heavy localisation in all these markets. Its nearest competitor is the Renault Duster. In order to price the EcoSport aggressively, Ford has done quite a lot of cost cutting by not giving the Indian spec EcoSport an engine guard, engine cover and twin-wiper blades. However the top end models get 6 airbags, ABS, climate control, reverse parking sensors, SYNC, hill hold assist, ESP, leather seats and button start with keyless entry.
The interiors of the EcoSport are very Fiesta like and the dashboard is a direct lift from it. The two-tone black and grey arrangement looks good although quality is just about average. The seats are comfortable and offer excellent support too. There are 20 storage areas inside the cabin. The AC is a chiller even in hot Indian climate and the SYNC voice recognition works well with Indian dialects.
Rear seat offers very good legroom and the wheelbase is bigger than the Fiesta, which offers poor rear seat space. The front seat back is scooped and the foot well is deep which results in good rear seat legroom. The seats can be reclined in two settings. Audio quality is excellent for a stock system.
The boot isn't large and is just 346-litres big. It can be increased to 705-litres by flipping the rear seats forward (they fold in 60:40 format). The parcel shelf is small too and the EcoSport is not the vehicle for transporting luggage.
Three engines are offered in India, a 1.5-litre gasoline generating 112 PS of power and 140 Nm of torque, coupled to a 5-speed manual and 6-speed automatic transmission, a 1.5-litre diesel offering 91 PS of power and 200 Nm of torque, mated to a 5-speed manual box and a 999cc EcoBoost gasoline motor with 125 PS of power and 170 Nm of torque, mated to a 5-speed manual box.
The 1.0-litre EcoBoost engine has received the International Engine of the year 2012 award. It's phenomenal in terms of performance which although linear, doesn't feel like a 1.0-litre unit at all. The 3-cylinder motor is very refined and there is only a slight bit of vibrations through the pedals past 4500 RPM. There is some turbolag below 1600 RPM, after which the performance is strong and the EcoBoost engine accelerates the car quickly to its redline. Even in-gear acceleration is good and one need not downshift too often. The clutch is light and shifting gears is effortless. 0-100 km/hr should take less than 11 seconds, while top speed should nudge 190 km/hr. Mileage is a claimed 18.9 km/l. The 1.0-litre EcoBoost engine is so small that it can fit on an A4 sized paper. This is the same engine which Jalopnik reported (here) about being small enough to fit into a cabin sized bag, clearing TSA security.
Ride quality of the EcoSport is good with only slight harshness over bad roads. Brakes are positive but the car tends to nose dive on heavy braking. Handling is very good, just like all Fords but the steering is on the lighter side even though it weighs up at speed. The tyres are horrible though and lack grip, screeching as soon as you apply hard brakes or corner enthusiastically.
The Ford EcoSport is not for the developed world, it's too small both visually and internally for American customers. However for emerging markets, it is an excellent all round package, offering easy manoeuvrability, good dynamics and an attractive appearance, while not costing too much to own.
Read the complete and exhaustive review of the Ford EcoSport at MotorBeam.com